Joining us for the eleventh consecutive year, we sat down with Beacham Group's Director, Glenn Beachamp, for a chat about all things golf, supporting WA kids, and what this year's competitors can expect from the infamous Beacham Group Novelty Hole…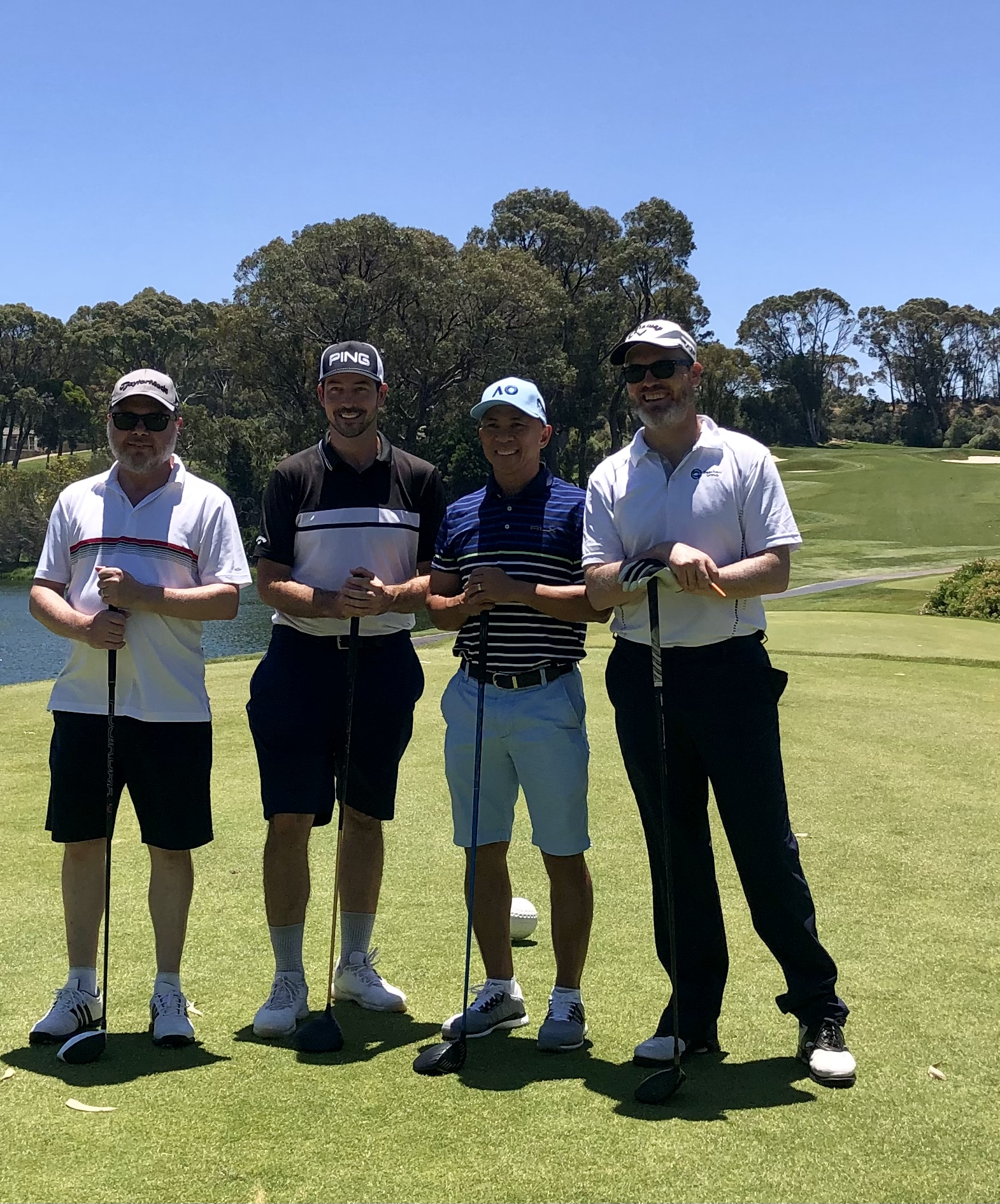 Image: Glenn Beachamp, Director, Beacham Group (far right) at Novelty Hole 1 at putt4dough 2020.
putt4dough: First things first… how would you describe your relationship with our favourite game? Is it a mutual love, are you something of a shark? Or are you a little less Norman, more Gilmore?
Glenn: My relationship with golf goes a way back. I've been playing since I had a full head of hair, and it wasn't grey. My relationship with putt4dough goes back almost as far, we've been proud supporters since the early days.
As for my abilities… I'll let this year's teammates be the judge of that!
putt4dough: Just how far back does your relationship with putt4dough go?
Glenn: We've been a part of the putt4dough journey since 2011, not long after Chris Marshall first kicked things off, and it's been an honour – it's always a great day out with good company, amazing views and most importantly, a chance to give back to the community and support sick WA kids in need. We wouldn't dream of missing this year's event and look forward to continuing the tradition.
putt4dough: Way back then! Do you have anything memorable from one of these many years you can share with us?
Glenn: It's always a 'hole' lot of fun and every year I learn some new trash talk – all of which is memorable, none of which I'll repeat!
putt4dough: As one of our earliest supporters, Beacham Group have helped us raise a staggering $472,000 for Perth Children's Hospital Foundation. What does that mean to you?
Glenn: It's all about the kids, right?! Over the years the funds raised from putt4dough have gone towards purchasing equipment including a state-wide Retcam to screen the eyes of babies at high risk of blindness, an Early Intensive Intervention Program for kids at risk of Cerebral Palsy, and so much more.
Any opportunity to assist in the care of sick kids in WA means the world to us at Beacham Group.
Last year we helped raise over $54,000 for the Foundation, and we look forward to raising even more this year to ensure our kids continue to receive the world class paediatric care they need.
putt4dough: Beacham Group is the proud sponsor of the highly-coveted putt4dough Winner's Trophy. Are you the competitive type yourself?
Glenn: As much as it's not about winning… I do believe a little healthy competition doesn't hurt! We love seeing the teams battle it out each year for the chance to lift the prestigious trophy above their heads. It always adds to the fun, especially when you win by the skin of your teeth like last year's winners from DXC.
putt4dough: What are you most looking forward to this year?
Glenn: Aside from the golf itself and the great banter amongst the teams, one of the most enjoyable parts of the event is always listening to the guest speaker. Last year it was Mick Colliss, an author, writer, sports commentator and member of the first Australian Sudoku Team, who was as captivating as he was hilarious. So I am looking forward to finding out who this year's guest speaker will be.
putt4dough: Finally, can you tell us what we can expect from the Beacham Group marquee on Lakes 1?
Glenn: I can… this year we'll be playing Golf Pong! Land a golf ball in a cup to score yourself a chance to win $20,000* and enjoy a little Beacham Group hospitality. All proceeds will go to the Perth Children's Hospital Foundation, so do keep an eye out for us at Hole 1 on the Lakes course.
*$2 scratchie.